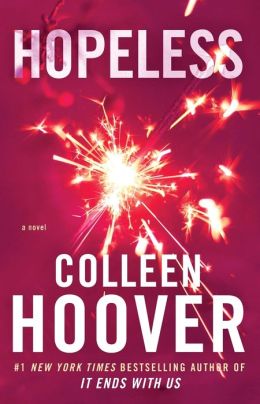 Series:
Hopeless (Book #1)
Published:
May 7th 2013 by Atria Books
Pages:
406
Date Finished:
May 19th, 2013
Rating:
5 stars
Age Recommendation:
15+ (Due to mature themes)
Synopsis:
Sometimes discovering the truth can leave you more hopeless than believing the lies. In this #1 New York Times bestselling novel by Colleen Hoover, author of Slammed and Point of Retreat, Sky meets Dean Holder, a guy with a reputation that rivals her own. Holder has the ability to invoke feelings in Sky she's never had before. In just one encounter he leaves her terrified yet captivated and something about him brings up a rush of memories from the past that she's worked so hard to bury away.

Sky knows Holder is nothing but trouble and tries to keep him at a distance, but he is adamant about learning everything he can about her. Sky finally caves to his unwavering pursuit, but she soon finds out that Holder isn't the person he's been claiming to be. When the secrets he's been keeping are finally revealed, every single facet of Sky's life changes forever.
Review:
All I can say is WOW... I had extremely high expectations after reading and loving the first two books in Colleen Hoover's "Slammed" series so I was really interested to see if this book would live up to what I was expecting from it and it definitely did.

The plot. I loved the plot of this book, I thought that there were so many unexpected things that happened in it (I will admit that I didn't actually read the synopsis of this book before I bought it). And even though I thought that it was somewhat of an unrealistic storyline Colleen Hoover was able to make it believable. There was so much emotion in this book and I felt for both Sky and Holder with what they found out towards the end of the book and how they were both connected with such a horrible thing. I thought that this was a very emotional book that was written extremely well.

The characters. I really enjoyed all of the characters in this book and thought that they were written extremely well. I loved seeing all of their individual personality traits shine through I their characters and how they all interacted with each other.
Sky. I really enjoyed Sky's character, I thought that she was relatable, funny and a great characters have the POV of the book told from. I really felt for her with all the things that she found out about her past throughout the book, but I thought that she handled it all very well. I loved seeing the change in her as her and Holder's relationship deepened and just seeing how he managed to help her through what she found out about herself.
Holder. I really liked Holder's character throughout the book and I thought that he was funny, witty and pretty hilarious when he wanted to be. I really enjoyed seeing just how much he loved Sky and all that he would do for her and how he helped her through what she was going though even though he was also dealing with the things that he found out about, he was strong because he needed to be for Sky. I loved seeing how they both bought out the best in each other and ultimately helped each other become better people.

Overall I really enjoyed Hopeless and it's a book that I would recommend to anyone. I'm going to be pre-ordering "Losing Hope" very soon and I cannot wait to read this story from Holden's POV.